Its Thanksgiving which means the betting card starts early this week. As is the case annually, with this being one of the biggest public betting days of the year, there is some value available on the dogs today to feast on.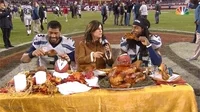 Week 11: 3-2
2018: 33-18
Game 1: Was +7.5 @ Dal
Bet% 51% 49%
This is really a play on the number. This game opened Dal +8.5 due mainly to Alex Smith being out and replaced by Colt McCoy and got bet down. Originally I thought I had missed the hook as this game went down to 7 but as of Thursday morning 7.5's started showing up again.
I like Alex Smith but he has not been good this year, he is 24th in QBR and 25th in Passer rating ahead of such luminaries as Eli Manning, Derek Carr, Case Keenum and the rookies, Mayfield, Allen, Rosen and Darnold. So how much of a drop will it be? I like McCoy in this spot, at home in Texas on national TV, if there is a game he wants to play well in, it is this one.
If there is something that worries you it is that Washington is 28th in DVOA vs the run so Dallas should be able to feed Zeke. Still, I think Washington stays in this game and has a shot to win late.
Game 2: NYG @ Phi Over 46
Bet% Over 69% Under 31%
I bet this game Friday morning when this line started to move and was able to get the 46. As of Sunday it is between 47-49 depending on the shop, I would still play at 47 but probably not at 49.
The Eagles are decimated with injuries on defense, they will be without starting corners Jalen Mills, Sidney Jones and their safety Maddux who had been one of the few bright spots on that back end the last month. Eagles will have 4 players playing significant snaps that 90% of Eagles fans could not name.
The Giants have been playing better football the last 3 weeks and this should be a big game for Barkley and OBJ.
Eagles have been awful on offense but I expect a bit of a bounce back after last week's embarrassing game vs the Saints and the Giants are the one team the Eagles had a good offensive day against earlier in the season.
Game 3: Jax -3 @ Buf
Bet% Jax 61% Buf 39%
if we were to base this line just on the rosters this should be Jags -6 but considering how the Jags have played this season and the fact that they are on a 6 game losing streak it's surprising this is even 3. If the Jags show up and play withe the type of effort they did last week vs Pittsburgh then they win this game by double digits if not then they could go 7 in a row.
I like that Josh Allen is playing because I think the Jags will be able to concentrate on the Bills run game and not worry about the pass. As disheartening as the loss last week was I do think the Jags defense will still show up in a game where they can basically play bully ball and get some sacks and turnovers. I think Jags win big here.
Game 4: Sea @ Car -3
Bet% Sea 46% Car 54%
The Panthers have lost 2 straight but I think because of that we are getting value here. Panthers are 5-0 at home and 1-4 on the road, the last 2 games they dropped were both on the road and they should have had a chance at the the win last week in Detroit if not for a an unnecessary 2 point conversion attempt.
Where I really like this spot is the Panthers are at their best when they can run, they are 4th in Run DVOA and that run game is the base of everything especially the play action Norv Turner wants. Seattle is 10th in defensive DVOA but only 19th vs the run, this is definitely an advantage for the Panthers.
Seattle also likes to rely on the run on offense and are among the league leaders in attempts and percentage of plays, they are 6th in DVOA. The Panthers defense hasn't been great this season but they are much better vs the run 12th then they are vs the pass 25th. Panthers are a much better team at home and for Seattle this is one of the longest trips of the year, like Panthers in this spot.