A rare TNF game, for me, I hate everything about TNF, the games are generally terrible and the short turnaround leads to even more randomness. That being said, in my mind the one thing I have decided is if I do bet it's home team or nothing and I like the home team here.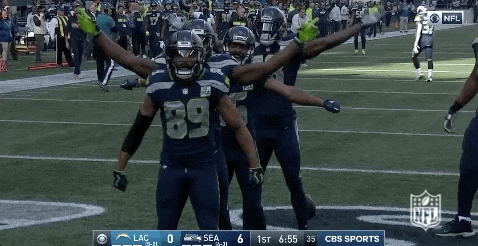 Week 10: 3-2
2018: 30-16
Game 1: GB @ Sea -3
Bet% GB 46% Sea 54%
This is a bet on 2 things, first home field matters more on TNF than any other game because of short turnaround and travel week and to me Seattle still has the best home field advantage partly due to the crowd noise in the stadium and partly due to how long a trip it is to Seattle for most teams.
The second reason I like Seattle here is we know they want to run the ball, they are first in attempts and 7th in DVOA and they are playing a Packers team that is 26th vs the run in DVOA. I think Seattle will be able to stick to their game script and minimize Aaron Rodgers time on field and and make enough plays in passing game to win this game and probably be in control throughout.
Game 2: Pit @ Jax +5
Bet% Pit 69% Jax 31%
The Jags season is slipping away into the abyss but mathematically they are still alive and if they have any chance, this 4 game stretch is crucial. Jags play the Steelers, then Bills and then 2 straight in the division vs Titans and Colts.
The Jags last year were legitimatized with their wins over the Steelers, no defense had the results vs this Pittsburgh offense that the Jags did and this is simply a bet that they can do that again here in a must win game. Jags are top 10 in DVOA on defense and special teams, Fournette now has a week under his belt, hopefully the offense does enough to keep this close.
Game 3: Dal @ Atl -3.5
Bet% Dal 55% Atl 45%
This line should be 6 but last week's result give us value on the home side. Dallas won a big game on SNF where the Eagles moved the ball but couldn't score and Dallas was able to grind out the clock and a win. Atlanta went on the road and lost in Cleveland, they lost a couple of fumbles and gave up big plays in run game including a 90+ yard TD to Nick Chubb.
Falcons are a much better team at home, are getting a key player back on defense in Deon Jones, I expect them to put up a lot of points in this game and can't see Dallas keeping up.
Game 4: Car @ Det Under 49.5
Bet% Over 51% Under 49%
Detroit has been a different offense the last month, in their last 3 games they have scored 22, 9 and 14. In this game the Lions will not only be without Golden Tate who they traded at the deadline but also Marvin Jones who is out with injury. Lions will need to rely more on K.Johnson and the run game which leans us to the under.
For the Panthers they are one of the larges home road splits when it comes to offense. At home they average 31.6 PPG on the road 20.8, their high score on the road this season is 24 @ Atl. The Detroit defense in the bottom 5 in DVOA so Carolina should be able to move the ball pretty easily but I don't see them needing to make this a shoot out and just taking control of the clock and ball. Even if they do get to 30, I think the defense will be able to hold Detroit to under 20.
Game 5: 2 team 6 pt teaser: Den @ SD -1.5 & Min +8.5 @ Chi
Chargers are playing some of the best football in the NFL outside of the top 3 and even though they have no home advantage in the sense of crowd noise and support they are a very good home team.
Denver has one quality win, it was opening week at home vs Seattle, the other 2 wins have been over Oakland and Arizona. The Broncos do play good teams tight but end up losing which is why I like Chargers in the tease here.
Chicago -Minny has been flexed to the SNF game which really hurts the Bears who have to play on Thanksgiving on Thursday morning. The Bears lead the division but I think we can still make a case that a healthy Minny which they are now with Dalvin Cook, Everson Griffith and Stefon Diggs all back and playing.
The Bears have been putting up big games on offense but I think it is still an open question on how Trubisky plays vs top defenses. The Vikings are #7 in Defensove DVOA and I think have the pieces to make this game hard on Trubisky. If that is not the case we have some insurance by teasing this through the TD.
MNF: KC +3.5 @ LAR
BET% KC 67% LAR 33%
Adding KC on MNF, I think both offenses will have lots of success but even though the KC overall numbers are at bottom of league they have played better in last few weeks as they have got healthier with Ford and Houston.
Rams defense is going opposite way also due to injuries and if there is a team that will know how to pick Marcus Peters it will be Andy Reid and the Chiefs.
Getting the hook here is a bonus but obviously with this high a total we could see high variance. Still I like the Chiefs.