We got 2 wins last week with that late score by Seattle, playoff lines get very tight and this week had me going back and forth on almost all the games.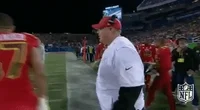 LW: 2-0
2018 Season: 44 – 32 – 1
Game 1: Ind @ KC – 4.5
Bet%: Ind 60% KC 40%
I am on an island on this game as I cannot find another person that likes the Chiefs minus the points here. 60% of all bets on the road team, despite the Chiefs being the story of the year but recency bias is big here. The Colts have been one of the most impressive teams in last few weeks of season and the largest margin of victory last week. Meanwhile the Chiefs did not finish the season blowing out teams like they did early in season and looked less explosive after cutting Kareem Hunt.
These are the best teams by weighted DVOA, Chiefs 1, Colts 2 so I certainly can see the case for Colts getting points but I think we are getting too much value on Chiefs to pass up at home.