We got 2 wins last week with that late score by Seattle, playoff lines get very tight and this week had me going back and forth on almost all the games.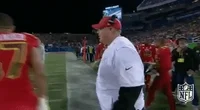 LW: 2-0
2018 Season: 44 – 32 – 1
Game 1: Ind @ KC – 4.5
Bet%: Ind 60% KC 40%
I am on an island on this game as I cannot find another person that likes the Chiefs minus the points here. 60% of all bets on the road team, despite the Chiefs being the story of the year but recency bias is big here. The Colts have been one of the most impressive teams in last few weeks of season and the largest margin of victory last week. Meanwhile the Chiefs did not finish the season blowing out teams like they did early in season and looked less explosive after cutting Kareem Hunt.
These are the best teams by weighted DVOA, Chiefs 1, Colts 2 so I certainly can see the case for Colts getting points but I think we are getting too much value on Chiefs to pass up at home.
A lot is being made of the Colts defensive improvements but they have not played an elite offense this year, in fact the Giants were the best offense they have faced this year by DVOA at 13 and NYG put up 27 points against them in Indy. They have faced nothing close to this Chiefs offence which was historically good.
For the Chiefs I think the bye week really helped, as much as they were hurt by the sudden loss of Hunt I think the downtick had more to do with Tyreke Hill being really banged up. A healthy Hill and Kelce and a returning Sammy Watkins should allow this offense to look more like they did early in season.
Finally, we get Andy Reid off a bye. I am admittedly in the tank for Big Red. I love Andy and believe strongly he is already a HOF coach but even his biggest detractors concede just how good Andy is in preparing his team off a bye. With Frank Reich coming from Doug Pederson's staff, Andy will be very familiar with the Colts offense and I think they will get enough plays on defense to win this game by a TD+
Game 2: LAC +4 @ NE
Bet% LAC 55% NE 45%
I took the +4 early in week as I thought it would drop but has held pretty firm at that number. I worry about Chargers playing their 3rd straight road game and of course the Patriot playoff magic but I think in end Chargers have advantages on both sides of the ball.
Chargers are 3rd in Weighted DVOA compared to NE who is 8th and if last week is a true indication then I think we have to upgrade the Chargers special teams and coaching from negatives to at last neutral ratings.
This is not the same Patriots team we are used to seeing, Tom Brady finished 12th in passer rating, Rob Gonkowski finished the year with just 3 TD catches and after coming back from injury in week 12 he had 1 game with 100 yards receiving and 4 with under 30 yards.
Weather will be a factor but overall I like the Chargers to win this game straight up.
Late Add: Game 3: Phi +8.5 @ NO
Bet% Phi 43% NO 57%
Adding the Eagles +8.5. I like the revenge factor after getting blown out a month and a half ago. eagles were really banged up in that game on offensive line where Jason Peters was out, Kelce was out after 6 plays and in the secondary where almost everyone not named Malcolm Jenkins was signed that week.
Saints offense was down to end the year but obviously can explode at anytime. Timmy Jernigans return to Eagles has been under the radar and I think will be huge here because the Eagles were not able to replace his production vs the run at the DT position. The Saints offense starts with the run game and Eagles have been better vs run the last 4 weeks.
On offense Nick Foles likes to push the ball down the field and that is where the Saints are vulnerable, especially opposite side of Lattimore with Eli Apple and in the slot. I think this is a close game late with the winning score coming late in 4th Q.