Big Week 15 last week going 4-1, still not sure how the Panthers managed to cash with almost zero offense but it happened and we will take it after a mostly down December. Hoping to finish with a flourish here and a big week from Saint Nick.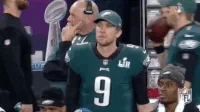 Week 14: 4-1
2018: 42-28-1
Game 1: Hou @ Phi -2
Bet% Hou 37% Phi 63%
This is a game where I am going against most of the smart money which normally doesn't go well. As an Eagles fan I can say that the team and fans both seem rejuvenated after last week's win and I think the Linc will be rocking. Eagles will be getting key pieces back on defense including DT Timmy Jernigan who has missed most of the year. The combo of Jernigan helping the Eagles run D, and Houston being without Lamar Miller means this game will be on the Houston Pass offense. Texans are dead last in adjusted sack rate and the strength of the Eagles defense is their defensive line, expect Cox and Bennett to have big games. I think Eagles will have success in pass game on offense and win this game by a TD.
Game 2: Min @ Det +7 (-120)
Bet% Min 67% Det 33%
I just don't get this number. In the first game these 2 played Min was a 5.5-6 point fav at home, now they are a lager fav on the road. Yes Lions have some injuries and the Vikings had a big win over Miami last week but even in that game they gave back a 21 point lead before pulling it out. I bet against Vikings last week because I don;t believe focusing on the run will help them and I still think that is the case. Lions will be in this game ad could even pull the upset. I bought up to the full 7 here which I think is just too much value to pass up.
Game 3: Jax @ Mia -3.5
Bet% Jax 33% Mia 67%
This is another number that doesn't make any sense to me, I made the line 6, it opened Miami -4.5 and has come down to 3.5. Miami is still alive for a playoff spot for whatever that may mean but at home they have been good as favorites especially with Tanehill. I have no idea what the Jags have to play for or why they would come up with a big effort here on the road in a nothing game. Oh yeah Cody Kessler is the Jags QB, gimme the Phins.
Game 4: KC -2.5 @ Sea
Bet% KC 47% 53%
Everyone is on the Seahawks this week and I get it. Seattle has the loudest home field in the league, it's a night game, it will be cold and probably rain and the Hawks have a run heavy offense vs the leagues worst run defense. I still think this is a cheap price for the Chiefs, if I know Andy Reid, he will go all out this week so he can take his starters out next week.
About that terrible Chiefs defense? They have been a little less terrible as they are 21st in Weighted DVOA and that has a lot to do with key playmakers coming back especially Eric Berry. That's the thing withe the Chiefs defense, they are not going to limit yards or drives but can they make a some big plays? Chiefs Dline is 6th in adjusted sack rate so while the Seahawks will surely be able to run on the Chiefs I do think the Chiefs will get some sacks and stop drives that way.
Seattle on defense I think is a little over-rated. Seattle is 21st in weighted DVOA on defense and 19th vs the pass. KC has not been quite as explosive as they were earlier in the year but I think they matchup well here and if they can score and get ahead early that will take Seattle off the run some.