Last week was another 2-2 week, the Colts under was the swing game we had a chance to have a winning week but the Jags late score ended that. This week's card started with me not really liking anything on Monday and by Friday I liked half the card. GL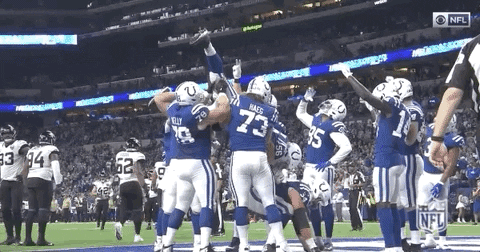 LW: 2-2
2019: 26-25-1
Game 1: Den @ Buf Over 37
Bet% Over 70% Under 30%
The first 2 bets this week are in the same game. We start off with the total, usually a total this low has 2 basically broken offenses and 1 or 2 great defenses, while there is a game on this week's card that futs that description, this isn't it. Lets start off wit the defences, neither of these defenses are playing as well as they did last year, Broncos are 9th in DVOA, Bills are 14th. When the Broncos are on offense I think they are going to have success running the ball, they have 2 quality backs in Freeman and Lindsay and are 10th in rushing DVOA. Meanwhile the Bills are one of the worst run defenses in the league, they rank 27th, the Browns rushed for 147 a few weeks ago and the Eagles got over 200. I see Denver having a similar day. Josh Allen should also have success in this game especially with Josh Brown, the Broncos have given up 7.2 yards per pass att in their last 3, last week they gave up 121 to Stefon Diggs in the 2nd half of that game, I think both teams will get into the 20's.
Game 2: Den +4 @ Buf
Bet% Den 47 % Buf 53%
No need to write things twice so as discussed above I think both teams will have success on offense and be able to score points, I expect a 23-20 game and I think Denver has a legitimate shot at winning the game. Denver will be able to control the game with their run game and put Allen into position to make big plays to Sutton. In the end I am not sure that these teams aren't basically the same teams, FO has Denver ranked 8 spots higher by DVOA than Buffalo despite their records. Buffalo has killed the bad teams on their schedule, (Miami twice, Was, Giants, Jets and Bengals but haven't been great against the good teams. Denver has been in most games and lost in the end even against good teams like Minny, GB and Indy.
Game 3: Pit @ Cin Under 38
Bet% Over 23% Under 77%
In the Buf – Den game I mentioned that totals under 40 are usually reserved for games with 2 broken offenses and at least 1 dominant defense and that's exactly what we have and why I am going under. Lets start with the offenses we have two backup QB's leading the 28th and 29th ranked offenses. For the Steelers not only has the offense been a disaster with Mason Raymond at QB but this week they will be without arguably their 3 best players on offense, Juju Smith-Schuster and James Connor due to injury and C Marquise Pouncey due to suspension. The Bengals meanwhile have not topped 17 points in 5 weeks, the last 2 weeks with Finley at QB they have combined for 23 points and this week they get one of the hottest defensive teams in the league. The Steelers have moved up to 3rd in defensive DVOA, 5th vs the pass and 8th vs the run. These two teams met in week 4 and the Steelers won 27-3 in a game that Steelers pulled out a bunch of trick plays with Jaylen Samuels at QB, Bengals should be ready for those plays this time.
Game 4: Det @ Was +4
Bet% Det 80% Was 20%
Washington is obviously a bad team, they have 1 win, a point differential of -128 and are lead by a rookie QB that nobody believes in including the former head coach that drafted him so it makes sense that nobody wants to bet on them this week. That being said, this line is crazy, we have the 3 win Lions, with Jeff Driskel at QB , down to their 3rd string QB favorites on the road of 3.5-4 points. Last week the Washington defense had a very tough game vs the Jets but they have played pretty well in the last month, they held the 49ers to 9 and the Vikings to 19 points. I think the Washington defense can lead them to a win here and Haskins is playing in his 3rd game and probably the easiest defense he has faced so again I think there is a chance for him to play his best game here. Washington might not win another game this year but I think they have a real shot to win here.
Game 6 Sea @ Phi – * Edit NO PLAY
Bet% Sea 77% Phi 23%
With Alshon Jeffrey Inactive, I am no longer betting Eagles. Cluster injuries at WR make this a really difficult game to bet Eagles. – No Play
One of the things most important when betting NFL games is to not be overly impacted by the most recent results. Last week we saw the Seahawks on MNF and beat the previously undefeated 49ers in a thrilling game while the Eagles lost at home to the Patriots with their worst offensive performance of the year. Seattle is one of 7 teams with at least 8 wins, but when you dig a little deeper they have really not been an elite team, their point differential is +21 the next closest 8 win team is New Orleans at +39, in fact 3 teams with 6 wins, (Indy,Dal, LAR) all have larger point differentials than Seattle. Seattle is 7-1 in 1 score games, we know these close games usually tend to have teams somewhere around .500 so Seattle has been a little lucky by results. As for the Eagles the defense is the healthiest, they have been all year, and over the last 3 weeks they have given up 44 points, 4.2 yards per play and a passer rating of 75.9. The issue for the Eagles is on offense, the offense is devoid of game breakers and they are forced to put together long drives to score. The Eagles will get Alshon Jeffrey back and unlike last week where they played the leagues best pass defense, this week they get a pass defense that is much more middle of the road. The Eagles if they win this game set themselves up to win the division because they have 4 very winnable games after this leading into the showdown vs Dallas.
Game 5: GB @ SF -3
Bet% GB 58% SF 42%
*I have not bet this game yet and will wait until I know the actives. If George Kittle plays, I will be on the 49ers.
This is really all about line value, at -3 we are saying these 2 teams are equal and the 49ers are getting 3 points for home field. I think the 49ers should be at least 1.5 point favorites on a neutral field and maybe as much as 2.5 so this line should be between 4.5-5.5. The big advantage the 49ers have in this game is they are at their best when they can run the ball, their offense starts with running and play action and the Packers have one of the worst run defenses in the league. GB is 28th in DVOA vs the run and giving up 4.8 yards per rush att, I fully expect Shanahan to be able to exploit the Packers defense.
Game 6: Oak @ NYJ +3.5
Bet% Oak 57% NYJ 43%
*LATE ADD
Adding the Jets to the card, line has been moving towards 3.5 all morning and now was able to lock in at -112. This is bad spot for the Raiders, traveling West to East for early start against a team you should beat with the Chiefs on deck for a huge divisional game.
Game 7: Bal @ LAR +4
Bet% Bal 70% 30%
Adding a MNF play with the Rams, this is really just beating the number. This game is probably the most juiced kine on the card because there is no team people want to bet on more than the Ravens. There are a few 4's andbits top much to pass on. This is a must win for the Rams if they are going to make playoffs, getting 4 at home is just too much value to pass.