Betting on the Browns as a favorite even though they had not won a game in 600+ days was a hell of an experience on TNF. The worst coached team in the NFL had to be saved from itself with an injury to Tyrod Taylor but in the end we got to celebrate alongside all those Browns fans. Nice start to week.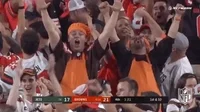 Last Week: 2-3
2018: 5 – 4 
Game 1: NYJ @ Cle -3 
See TNF write up here 
Game 2: GB @ Wsh +3
Bet% GB 58% Wsh 42%
I don't have a lot to go on here to like Washington but this just feels like a spot they have to get a win. Washington has a bye next week, then they go to New Orleans and then have Carolina visiting. Nobody wants to bet Washington against Aaron Rodgers after they got beat at home by the Colts last week yet the line seems to be dropping at the sharper books.
Green Bay has had two very dramatic high profile division games, this feels like a spot where we could see a let down. Packers have traditionally been a much weaker road team and I am still not sure how healthy Rodgers is. I thought Washington was the 2nd most talented team in the NFC East coming into season, I think they win this game.
Game 3: 2 Team Teaser – NO +7.5@ Atl & Ind @ Phi -1
I was planning to bet the Saints at +3 but didn't get the number soon enough and the line has dropped to +1.5 or 2 depending on the book. Instead I will be using in a teaser here. The Saints have struggled the first 2 weeks in games they were heavy favs. Saints offense has been exactly what everyone expected but the issues have been on defense. I'm not sure this defense was as good as the results last year but I also don't think they will be as bad as they have been to start the year.
The main reason to take the Saints this week is that the Falcons are really struggling with injuries. On defense they have lost the key playmakers in the middle of the field Keanu Neal and Deon Jones, without them I don't see how they handle Alvin Kamara. The injuries extend to the offense where starting guard Andy Levitre is out for the year and starting RB Devonte Freeman will also be out.
The Eagles get the Colts playing their second straight road game out east. This is Carson Wentz first game of the year and while there may be some rust, Wentz has been throwing since day 1 of camp and apparently was upset not have gotten the start in week 1.
The Eagles defense was terrible last week in TB but like many good defenses they are a different group at home. I expect the Eagles defense to be much better this week and make life for Andrew Luck very difficult.
Game 4: Chi @ Ari + 6/6.5
Bet% Chi 73% Ari 27%
I have not bet this game yet and will wait closer to kick off but will be on the Cardinals. There is nothing in the performances of the Cardinals first 2 weeks that make you want to put money on them and this could certainly be a game you regret very early. That being said, there is no way a team with Mitchel Trubisky should be a 6 point favorite on the road. The Bears are on a short week after their win on MNF and now travel across country to play a game against the Cardinals.
Arizona has been absolutely putrid on offense but they do have talent, they have one of the top 3 or 4 RB's in David Johnson, Fitzgerald had 100+ receptions last year and as ugly as Sam Bradford has looked this year, he got off to a great start with Vikings last year.
I think Arizona will be able to do enough on offense to stay in this game and possibly win straight up.
Late Adds
Game 5: LAC +7.5 @ LAR
Bet% LAC 46% LAR 54%
If this gets to +7.5 I will probably be on the Chargers. I wish Joey Bosa was playing, the Chargers really miss their best player and could use him in this game but even without him they do have a talented team. I'm not sure either of these teams have a home field advantage, the Rams are probably the most talented team in the league but if I get more than a TD it is too much to pass up.
Got Chargers at +7.5 (-120)  this is really just a value play. Chargers clearly the best team the Rams have played so far, I think they can keep this close by getting pressure on Goff.
Game 6: Dal @ Sea -1
Bet%: Dal 43% Sea 57%
Seattle is 0-2 after 2 tough road losses. Dallas won last week but has struggled on offense through first 2 weeks. The Seahawks made some curious hires on the coaching staff, especially with Brian Schottenheimer but at 2-0 I expect them to go back to letting Wilson do what he does and attack Dallas with more passing on early downs.
Week 2 Review
Results: 2 Wins 3 Losses
Game 1: KC @ Pit -4 : Result: KC 42 Pit 37 – Loss
Game 2 KC Pit Over 52 Result 42-37 – Win
Game 3: Phi -3 @ TB Result Phi 21 TB 27 – Loss
Game 4: Mia +3 @ NYJ Result Mia 20 NYJ 12 – Win
Game 5: NYG +3 @ Dal Result NYG 13 Dal 20 – Loss